A novel means to channel, rout, fix, anchor or harness a single or group or bundle of wires.


Usage in electronic, electrical and automobile industry.


Lifts the wires off the board or chassis to avoid hot components and to minimize transient interference.


Flexible enough for easy insertion and removal of wires.


Easily snapped into drilled or punched holes of 4.8 / 6.4 mm of diameter.


Can be mounted in any position.
Exclusive features
Simple and easy installation by finger pressure into panel hole of 4.8 mm dia.


Self adjustable for various panel thickness from 0.5 mm to 2.3 mm.


Assures precision routing.


Easy funnel entry.


Cuts cost by speeding assembly.


Secures hold in any position.


Protects wire insulation from damage.


Colour - Natural or black.


Temperature withstand range - 25oC to +85oC


Good resistance to alkalis, oils, grease, petrol, benzine and organic solvents.


Material - Polyamide.
Novoflex Part No.
Dimensions (mm)
Standard Pack
H
A
B
C
W
WH - 5
9.5
13
5
8.2
11.1
100 nos
WH - 10
14.7
18.2
10.2
8.2
11.1
100 nos
WH - 19
23.7
27.2
19.2
8.2
11.1
100 nos
WH - 27
31.6
35.1
27.1
8.2
11.1
100 nos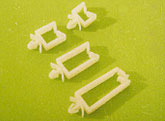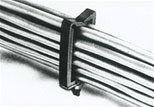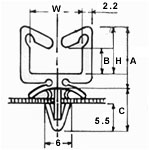 "Its a better and Economical Substitute to the popular and costly Rigid PVC Wiring Duct/Channel."