HIGH PERFORMANCE TIES FOR EXTREME ENVIRONMENTS

CP Series - These cab-lok Cable Ties Incorporate a non-return cam action locking device which ensures that once applied they will not slip, come off or slacken. Must be cut to be removed.

CPR Series - After undergoing extensive and continuous development, a new reusable style Cab-lok Cable Ties series CPR has been developed. These reusable style Cab-lok cable Ties remain securely locked until released by finger push to the tab near the locking head. They are suitable for servicing and situations where wiring amendments need to be made.

CPU Series :
These ties are easily assembled by hand and remain locked until intentionally released by the finger catch of the head.
Material :
Nylon resistant fungus, corrosion.
Standard colour :
Natural color or weather resistance black. Other colours on request subject to a minimum quantity.
Operating Temperature :
-25oC to +95oC
Melting point :
250oC
Standard Packing :
100 Nos.
Specification :
Manufactured in accordance with American Military Specification 23190 Drawing No. Ms 3367.
Place Cable Tie around the Cable Bundle, Insert Tail into Head
Pull tie through locking head, down to bundle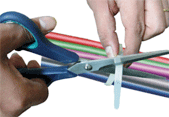 Cut the excess tail for a neat and compact finish